Robert Doisneau au Pays des Sorgues…
5 January 2014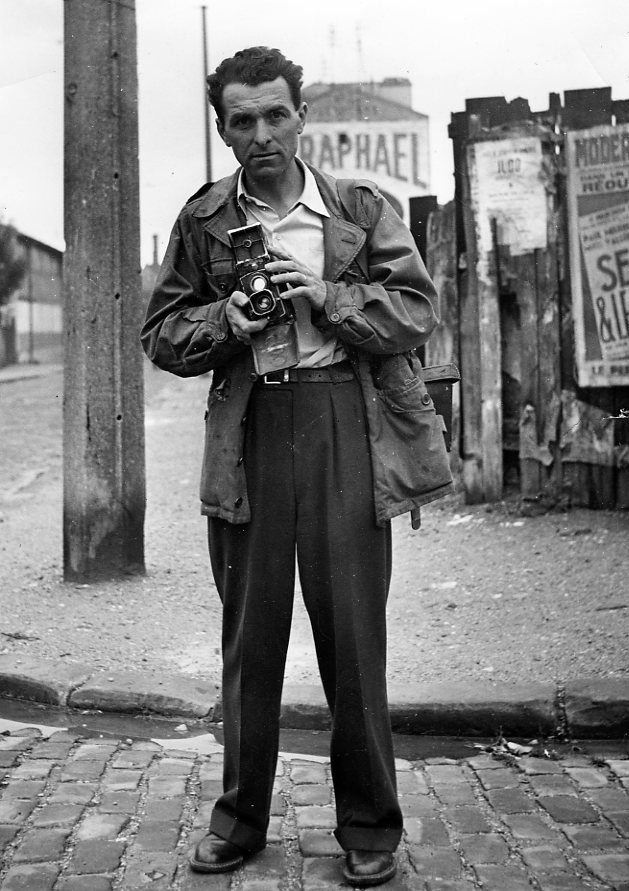 Les lieux inscrivent les histoires et les rencontres. C'est à L'isle sur la Sorgue dont l'écrivain René Char fut l'enfant-poète , que s'installa durant la guerre le photographe Willy Ronis, ami de Robert Doisneau.Tous deux engagés par l'Agence Rapho à Paris, avaient en commun un regard humaniste, une amitié courtoise mutuelle puis des destins croisés tel le partage des eaux, là où la Sorgue se sépare en deux bras,transformant la ville en Venise provençale…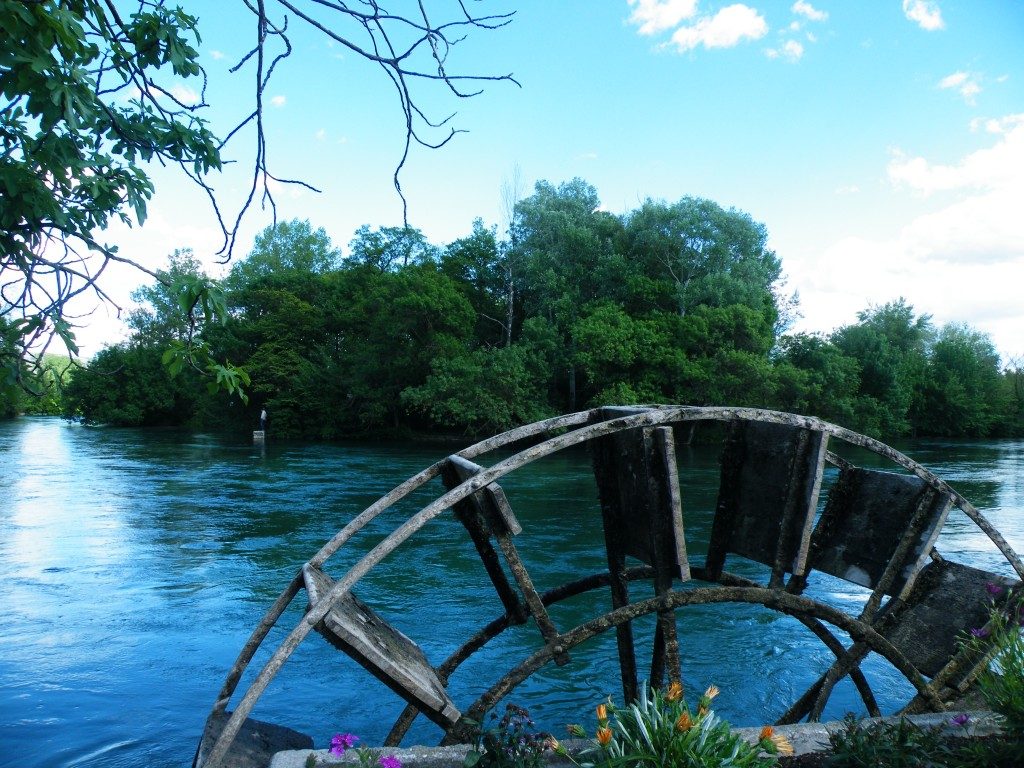 Ici  dans cette ancienne enclave du Comtat venaissin, la vie s'organise autour de l'eau, force vitale de la région et muse de nombreux  écrivains: Pétrarque écrivit ses plus beaux poèmes à Fontaine de Vaucluse non loin d'ici ,là où jaillit en un seul point la rivière de la Sorgue surgie des entrailles de la terre.
La ville se construisit sur pilotis au milieu de marécages insalubres et eu dès le XI ème siècle une activité économique florissante grâce à l'énergie de l'eau qui faisait tourner les roues à aube: le blé était moulu, la laine, descendue des Monts du Vaucluse, peignée, la soie filée.Tour à tour, ville de pêcheurs,de tisserands,de papetiers puis de brocanteurs.
L'isle sur la Sorgue aurait très certainement inspiré Robert Doisneau comme les petits métiers de Paris avaient subjugué son mentor, Eugène Atget.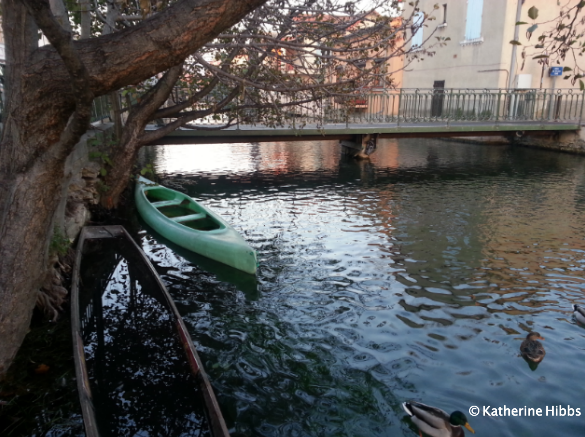 DU METIER…. 
Robert Doisneau aurait sans doute fixé les limites du rêve dans son boîtier Rolleiflex 6/6, saisissant le passage d un «pesciare lilen» (pêcheur l'islois) au fil de la Sorgue sur une «nego chin» à fond plat.
Ici à l'arrivée du froid, les frêles embarcations sont volontairement noyées sous l'eau, baptême hivernal, pour résister au gel .
Il aurait   si bien su saisir en vue plongeante  dans la lumière du midi, la foule ( qui lui faisait si peur)  venue l'été au marché flottant, restituant à sa façon, l'ambiance, à la fois de loin et intimement.
…. A L' OEUVRE.
Campredon-Centre d'art, constitué de trois  niveaux reliés par un magnifique escalier classé, fut tour à tour Maison d'Auteur puis lieu d'expositions, le lieu a été ouvert en 1984.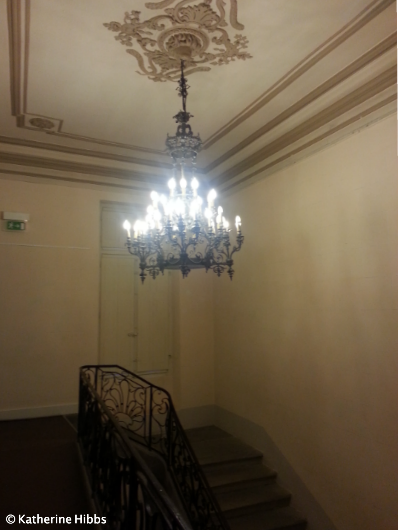 C'est dans ce bel hôtel particulier du XVIII ème siècle imaginé par l'architecte Esprit-Joseph Brun,  que l'on pourra découvrir jusqu'au 9 Février, une sélection de 100 épreuves noir et blanc s'attachant au regard de Doisneau sur Paris et ses banlieues, complétée par 30 tirages de la série  couleur «Palm Springs 1960». Dans le deuxième volet de cette rétrospective, le photographe missionné par le magazine FORTUNE posa un regard amusé sur l' univers futile des nouveaux riches campé dans le désert du Colorado.
De cette étape américaine, Muriel Catala, directrice artistique du centre dira que  «ces images ironisent sur le statut des parvenus et de leur vanité.Palm Springs décrit le monde de riches retraités vivant dans des villas luxueuses et où la climatisation était poussée à fond pour que ces dames puissent porter leurs fourrures !  ……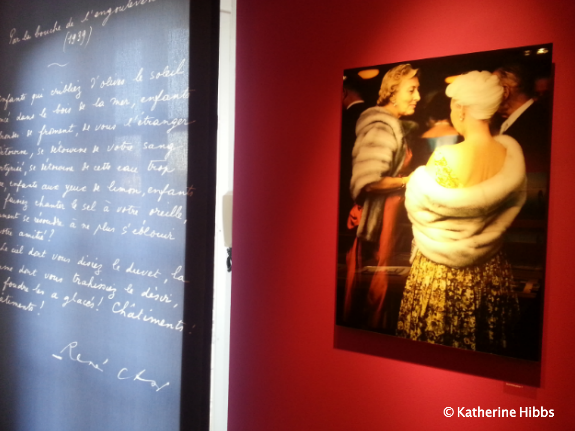 Un énorme travail a du être effectué sur les films originaux qui ont été nettoyés,re-scannés et optimisés par l'Agence Les Artisans du regard.
Les couleurs des tirages tirés sur Diasec ont été renforcées pour appuyer le côté kitsch de cet univers. A chaque exposition, nous remettons en peinture les murs avant l'accrochage et nous avons osé un rose acidulé pour cette série!» .
Ce travail moderne et visionnaire est comparable à celui de Martin Parr (notamment avec sa série Life's a beach) et contraste avec la réalité sombre des tirages noir et blanc présentés au rez- de- chaussée dans la salle « des misères»: le quotidien gris des banlieues hivernales,les exclus de la société qu'ils soient forains, tatoués ou gueules cassées…A ce titre Doisneau évoquait souvent Diane Arbus ,fascinée par les gens hors-norme, qui naviguait dans les mêmes sphères mais à New York.
La majorité des photographies de l'exposition sont des tirages vintage c'est à dire tirés par le photographe. Doisneau travaillé avec trois tireurs Georges Fèvre qui fut l'un des plus importants dans sa carrière, Philippe Salaün et actuellement Hervé Hudry des laboratoires Publimod qui est le tireur de l'Atelier.
◊_________________________________________________________________________________◊
◊ Robert Doisneau in Sorgues land ◊
Stories and encounters are embeded in places…It's in the city of L'Isle sur la Sorgue, from which originated the famous local poet René Char,that Willy Ronis, a friend of Robert Doisneau, settled down during the second world war.
Both, hired by Rapho photo agency in Paris,shared a humanist vision of the world and a courteous frienship. But their destinies took a different path as did the waters, here, at the very place where the Sorgue river splits in two, shapping the city in the form of a provencal Venice.In this former enclave of the Comtat Venaissin, life revolves around water,vital strengh of the region and also an inspiring muse for writers.
Petrarque conceived his most beautiful poems in the near by village of Fontaine de Vaucluse, where the river springs from the depths of the earth.
The city was built on stilts among insalubrious swamps and had a flourishing economy as soon as the eleventh century, thanks to the water power of spinning water wheels: weat was ground,wool to be combed, carried down from the Vaucluse Mounts .
In turns, fishermen, weavers, papermakers and antique buyers lived here.
L'Isle sur la Sorgue could have largely contributed to inspire Doisneau as small parisian job had caught Eugene Adget's attention ,his mentor.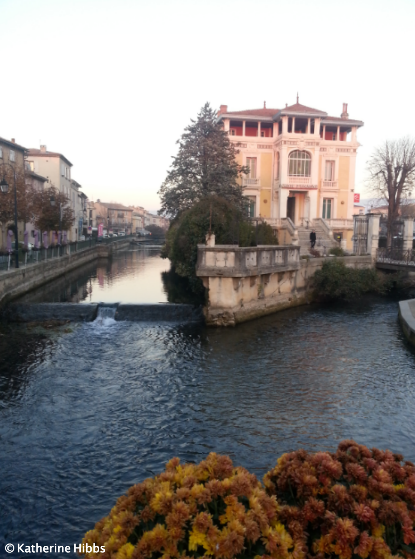 From Working experience…..
Robert Doisneau would have certainly fixed the limits of dream through his Rolleiflex camera, grasping a shot of a moving local fisherman («pesciare lilen») along the thread of the Sorgue river on his flat bark.
Here with the upcoming cold,the frail crafts are deliberately drowned in the way of a winter christening, to fight against frost.
The photographer would have perfectly seized in a plunging frame the crowd ( which frightened him) gathering in the southern light to attend the floating market, rendering in his particular way, the distant and intimate atmosphere…
…To Master Piece….
It is in the three storeys Campredon Art Center in L' Isle sur la Sorgue created in 1984, formerly an Authors' house to become an art center,t hat one will discover until February 8th a memorable photo exhibition named « Du métier à l'oeuvre, Palm Springs 1960».
A selection displaying one hundred black and white prints revealing Robert Doisneau's vision of Paris and  its  greyish suburbs, is completed by thirty colour prints of his series «Palm Springs 1960».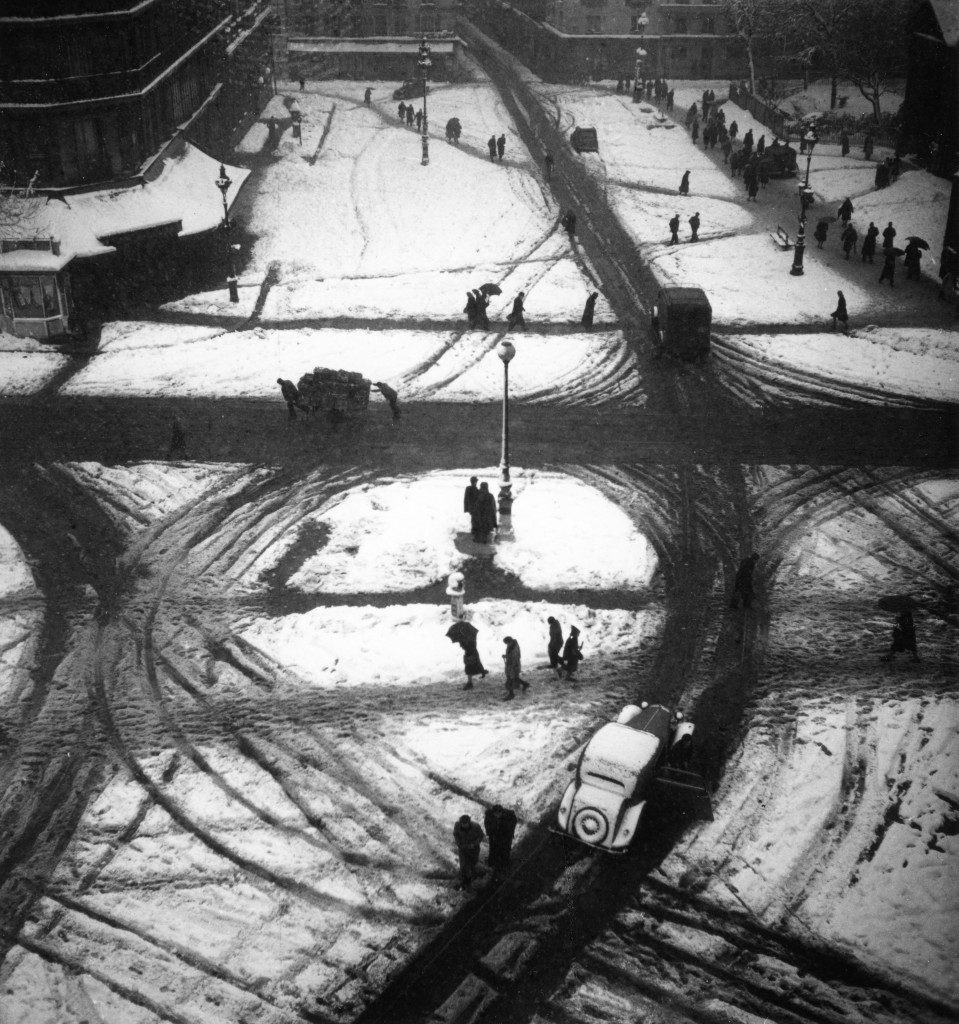 Doisneau, appointed by Fortune magazine ,expressed an amused look over the frivolous «Nouveau Riche» americans who settled down in the Colorado desert to play golf.
Regarding this American stop-over of the photographer,Muriel Catala,the Art director of Campredon center, expresses that these colour prints are ironic about the Nouveau riche status and their pointlessness: «This series describes a world of the rich retired living in somptuous houses and where the air conditioning blows at full speed in order to allow the ladies to wear their fur coats !…..
A tremendous work has been accomplished on the original films which have been cleaned, rescanned and optimized by the agency "Les Artisans du regard".
The colours of the prints done on Diasec have been boosted to underline the kitsch aspect of that world.Before each exhibition we repaint the walls before displaying the pieces of art and this time we have choosen a flashy background for the Palm Spring series!».
This visionary approach is comparable to Martin Parr's photo work ( Life's a beach series) and contrasts with the somber reality of the black and white works on the ground level introduced in the « misery « room: the greyish daily winter live in the suburbs, the forgotten ones including stallholders, tattooed men and women, broken faced… As a matter of fact Robert Doisneau often referred to Diane Arbus who was fascinated by the drop outs of american society. Most of the black and white  prints of the exhibition are vintage ( printed by Doisneau). The photographer mainly worked with three printers: Georges Fèvre, Philippe Salaün and currently Hervé Hudry is in charge of the prints for the Atelier Doisneau.
*****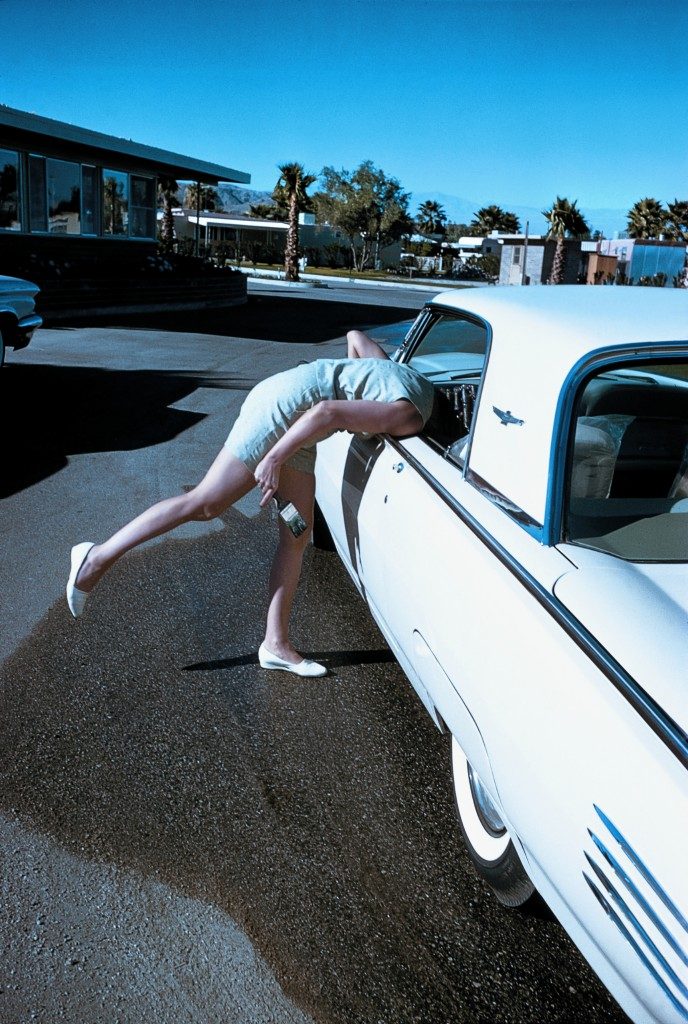 Exposition Robert Doisneau  "Du Métier à L'Oeuvre-Palm Springs 1960" jusqu'au 8 Février 2014
Photo exhibition by Robert Doisneau until February 8th,2014.
CAMPREDON Centre d'art
20 Rue du Docteur Tallet
84 800 L'Isle- sur- la -Sorgue
Tel :04 90 38 17 41
◊ A voir à l'auditorium du centre…
See a documentary film by director Patrick Jeudy:
«Robert Doisneau, tout simplement»
un film documentaire de Patrick Jeudy
Conférence le 18 Janvier 2013:
Lecture ( in French) on January 18 th:
« La photographie humaniste : de Robert Doisneau à JR»
par Christine Cornillet.
******
Découvrir L'Isle sur la Sorgue:
Discover the city
L'Association des Brocanteurs (ABIS)
Marché à la brocante
Second hand goods market:
Avenue des quatre otages
84800 L'Isle sur la Sorgue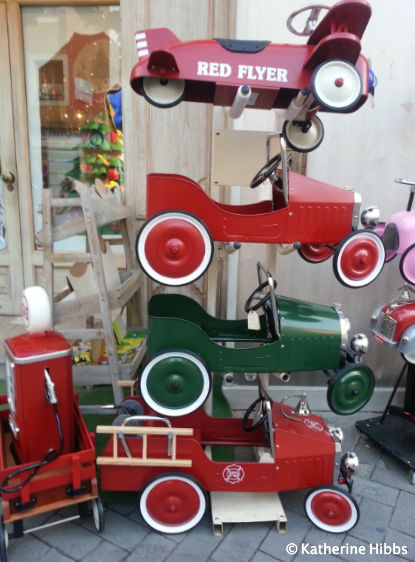 *****
Collégiale Notre Dame des Anges
Collegiate church:
Bel exemple de l'art baroque en Provence.
Place de l'Église,
84800 L'Isle-sur-la-Sorgue
Tel 04 90 38 04 78
*****
Musée de la poupée ancienne
Antic Doll Museum:
26 Rue Carnot
84800 L'Isle sur la Sorgue
Tel 04 90 20 97 31
*****
Marché Flottant
Floating Market
à découvrir à partir du 1er dimanche d'Août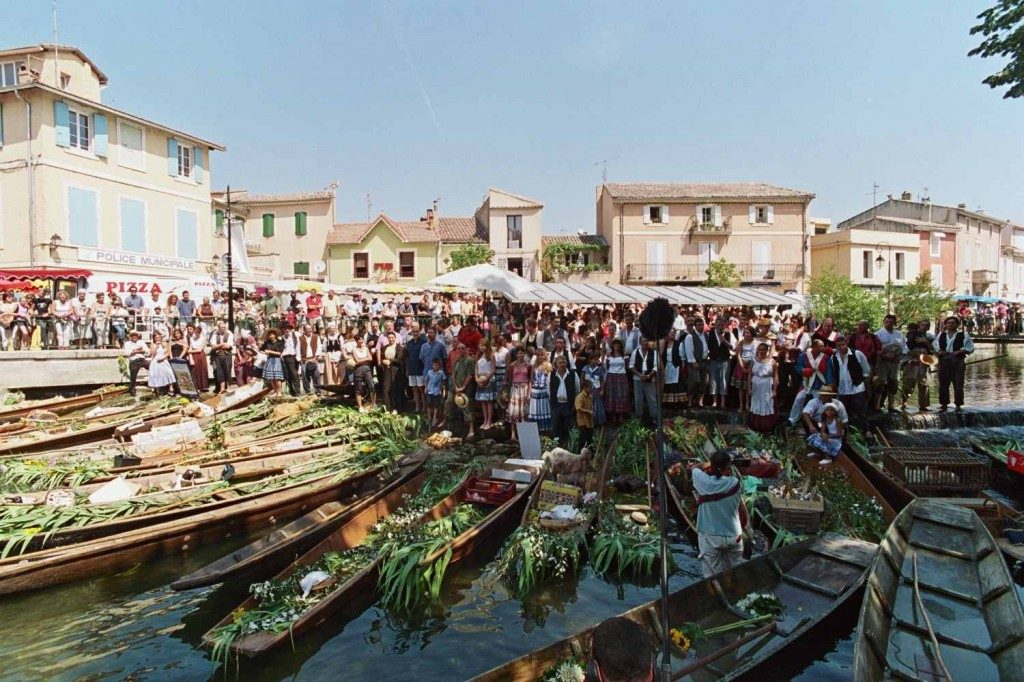 (© J.P. Germain)
*****
où manger
where to eat:
La Balade des Saveurs
3 Quai Jean Jaurès, 84800 Isle sur la Sorgue (L')
Tel 04 90 95 27 85
*****
Rêver dans un hôtel particulier d'hôtes
Have sweet dreams in a mansion:
Hôtels Particuliers d'Hôtes
Tel 06 87 32 58 68
You May Also Like
14 April 2015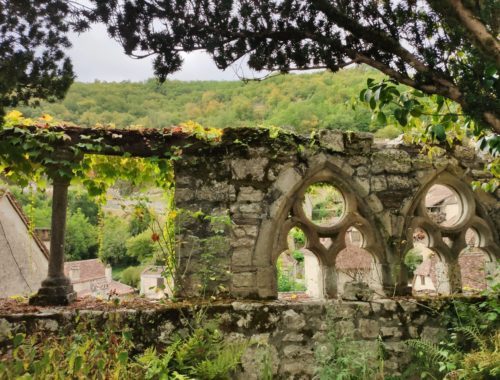 28 November 2019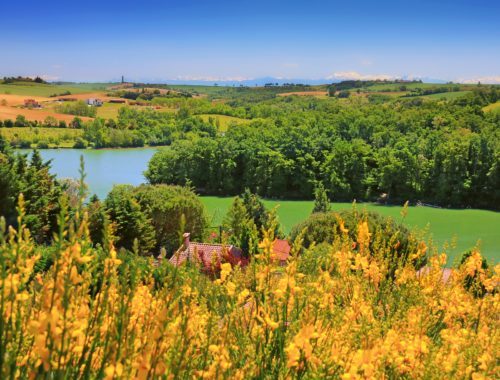 3 November 2019