Violons,Step dance et kitchen parties…
27 October 2013
À l'heure où le violon du Titanic a été vendu aux enchères, il faut se souvenir qu'Halifax a largement collaboré au rapatriement des noyés du paquebot. C'est même dans cette ville qu' a été institué le « toe tagging» ou identification des corps par une étiquette sur le gros orteil.Le réalisateur James Cameron s'est inspiré des tombes du cimetière pour attribuer le nom du héros incarné par Di Caprio, Jack Dawson. Le passager qui périt sur le Titanic s'appelait en fait Joseph Dawson et est enterré au cimetière Fairview de Halifax.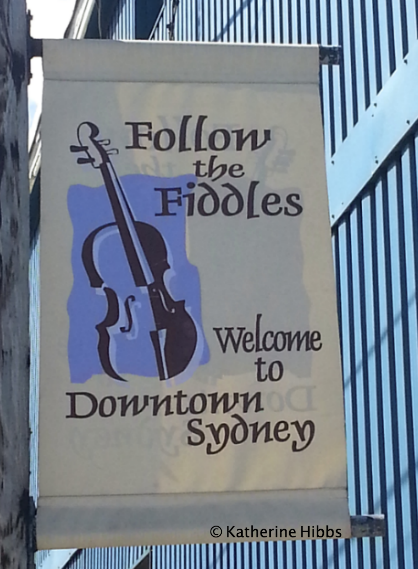 Mais le son du violon nous emmène dans la presqu'île du Cap Breton à l'heure du Festival Celtic Colours pour des instants partagés bien plus joyeux…
La petite ville de Judique ou Siudaig Mhóren en gaélique écossais est située dans le comté d'Inverness sur l'île du Cap Breton.C'est là que se trouve le Centre d'interprétation de musique celte.La vague d'immigration écossaise en Nouvelle Ecosse dans les années 1800 a participé à faire perdurer la tradition du violon car au 19 ème siècle la pression sociale a favorisé la cornemuse au détriment du violon en Écosse. Les Irlandais eux sont venus à Cap Breton pour travailler à la mine du côté de Sydney.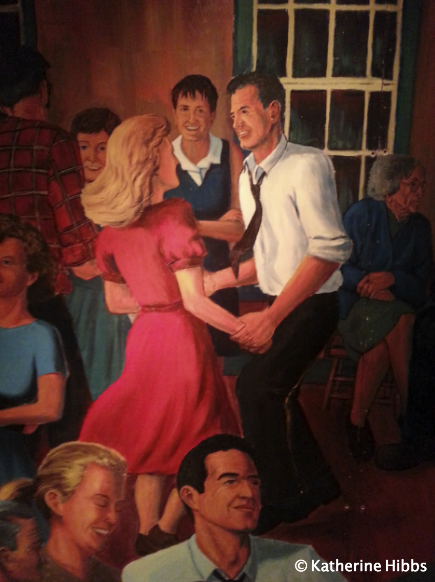 Ici le lien social s'établit à travers le « Ceilidh » ce qui signifie «réunion» en gaélique. La danse et le violon, ce dernier souvent interprété en solo, ponctuent ces rassemblements.
J 'ai rencontré la violoniste Rachel Davis au Centre d' interprétation de musique  (groupe» Coig» ) elle enchaîne avec un ami pianiste un  «medley» où chaque morceau n' excède pas une minute « On joue tout à l'oreille et le pianiste me suit à l'instinct dans les différents enchaînements. Nous avons une gazinière sur scène car la tradition voulait que l 'on se réunisse dans la pièce à vivre qui était le plus souvent la cuisine, c'est notre kitchen party ! Il en est de même en Acadie. Au bout de deux morceaux on laisse la place à un autre violoniste ».
Le Festival Celtic Colours qui est «LA» référence du Cap Breton vient de se terminer mais reviendra l'année prochaine à l'automne indien durant les deux premières semaines d'Octobre. Ici on tape plus facilement des pieds que des mains pour soutenir le rythme de la musique avant d'enchaîner le plus naturellement du monde l'incontournable STEP DANCING.Cette danse crée du lien social et est un signe évident de la qualité du violoniste qui l'accompagne. On a l'habitude de dire qu'un bon danseur de Step Dance doit être capable de tenir en équilibre sur la souche d'un arbre « Dance on the stump of a tree »! Avant que le piano ne soit introduit au Cap Breton comme instrument d'accompagnement du violon, c'est le battement des pieds qui rythmait la musique. Le style musical du piano a évolué grâce au rythme des pieds tapant le sol!
Le peintre Peter Rankin qui vit à Judique a largement illustré la vie locale de la communauté dans ses tableaux.
_________________________________________________________
Fiddling, step dancing and kitchen parties…
A precious violin recovered from the Titanic was recently sold at auction, a reminder that Halifax played a large role in the repatriation of those who drowned. The procedure of putting a label on the big toe of the deceased was established in this very city. The film director James Cameron was inspired by the graves in Fairview cemetery to find the name of Di Caprio's character «Jack Dawson» who was in reality Joseph Dawson! The sound of violin draws us to the Cape Breton peninsula to the Celtic Colours Festival to share joyful moments…The little city of Judique is located in the Inverness county and proud of its Celtic music interpretive center.The Scottish mass immigration in Nova Scotia during the 1800's largely contributed to the fiddling traditions since the 19 th century social pressure favored  bagpipe versus fiddle in Scotland. Here the social link evolves into the form of a  «Ceilidh» which means « gathering» in gaelic language. Dance and fiddle ,mostly interpreted in solo punctuate this rally. I met up with Rachel Davis from the group COIG  at the Celtic music interpretive center.She shoes me the music for a series of medleys where each piece doesn't exceed more than a minute:» we play by ear and the pianist follows me by instinct in the different series. We have a stove on stage because traditionally people would gather in the house kitchen: that's why we call it a kitchen party! It's the same in Acadian communities. After two pieces of music the fiddler is replaced by another one.»;The Celtic Colors festival which is a «must» reference in Cape Breton ended but will be back next year during  the first two weeks of October.At the Festival participants prefer stamping feet rather than clapping hands. Stamping reinforces the music's rhythm before joining the dancing.This dance creates a social network and is an obvious sign of the fiddler's quality. It is said that one must be able to « Dance on the stump of a tree »!Here in Cape Breton the musical style of the piano has evolved thanks to the feet rhythm stamping on the ground!The painter Peter Rankin who lives in Judique has widely contributed through his pictures to the description of the local social life.
You May Also Like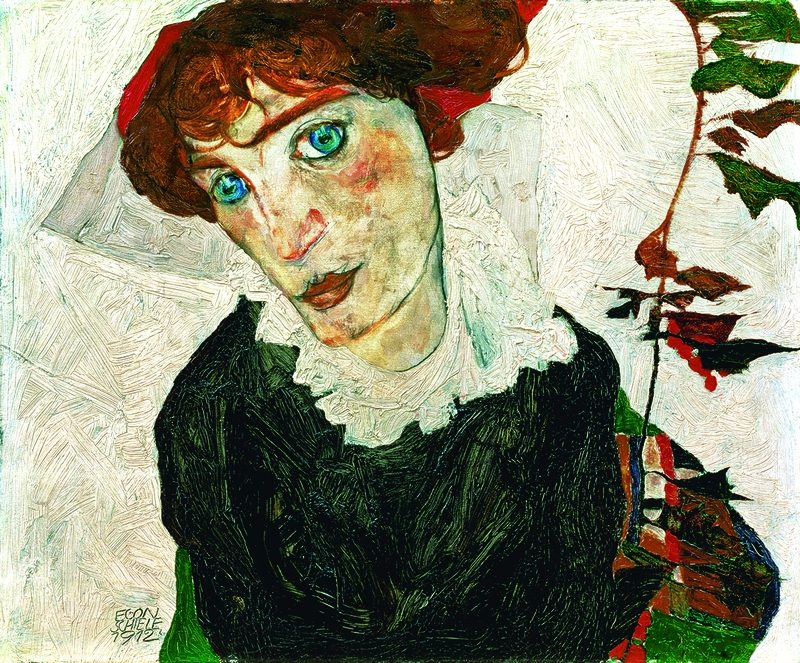 8 January 2018
1 May 2019
21 January 2017